Protection function
(1) Low voltage alarm: the buzzer sounds 2 times with a difference of 1 Hz.
(2) Low-voltage protection: the buzzer beeps 3 times continuously, with an interval of 1 Hz.
(3) Low voltage recovery: When the low voltage rises, the output will be automatically restored, and the buzzer will sound 3 times to cancel the alarm.
(4) Overvoltage protection: The buzzer sounds 4 times with a deviation of 1Hz.
(5) Overvoltage recovery: The voltage is automatically reduced and the output is restored, and the buzzer sounds 4 times to cancel the alarm.
(6) Thermal protection: 80. The overheating protection buzzer sounds 5 times with a deviation of 1Hz.
(7) Overload protection: 10S automatic shutdown output of overload protection, 5S automatic recovery, automatic lock for 3 consecutive times.
(8) Short circuit protection: short circuit protection output 1S stop interlock.
Package List:
1 x 3000W inverter
2 x cables

1 x user manual.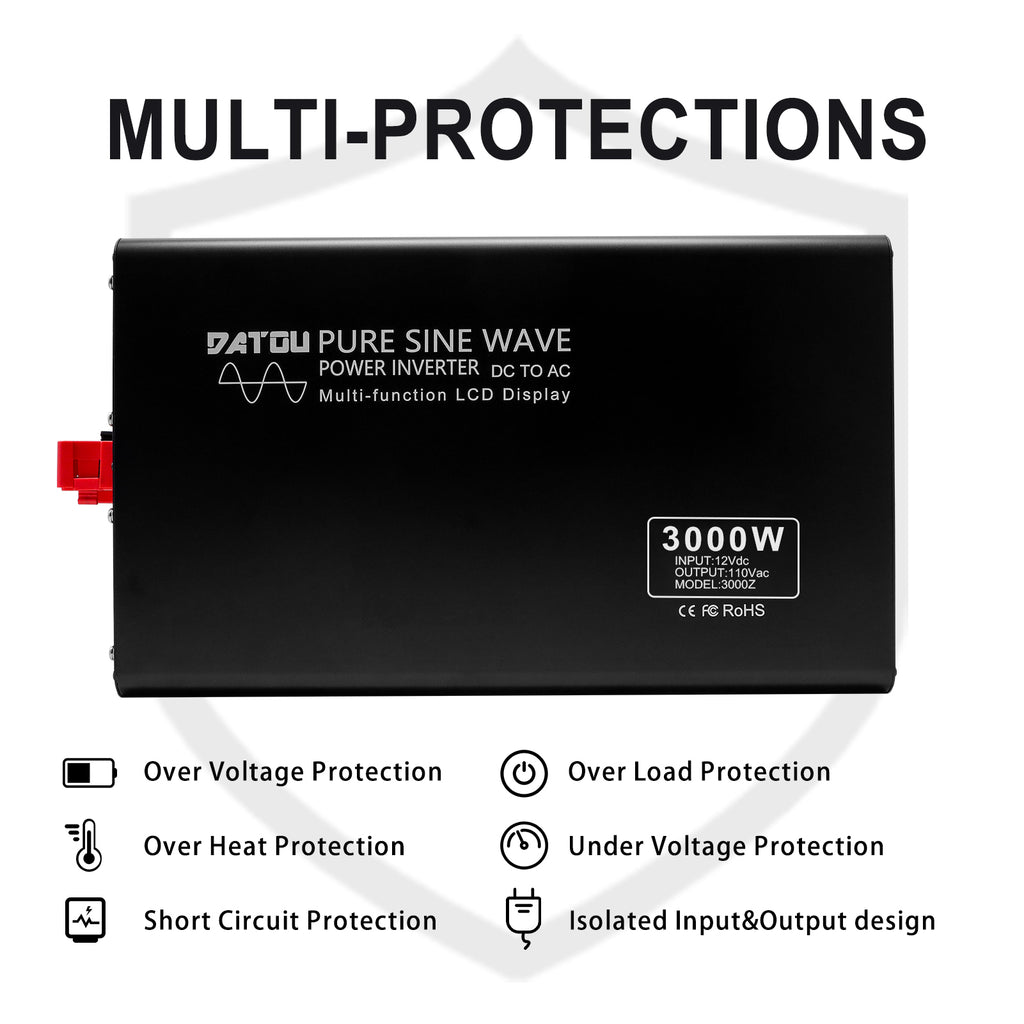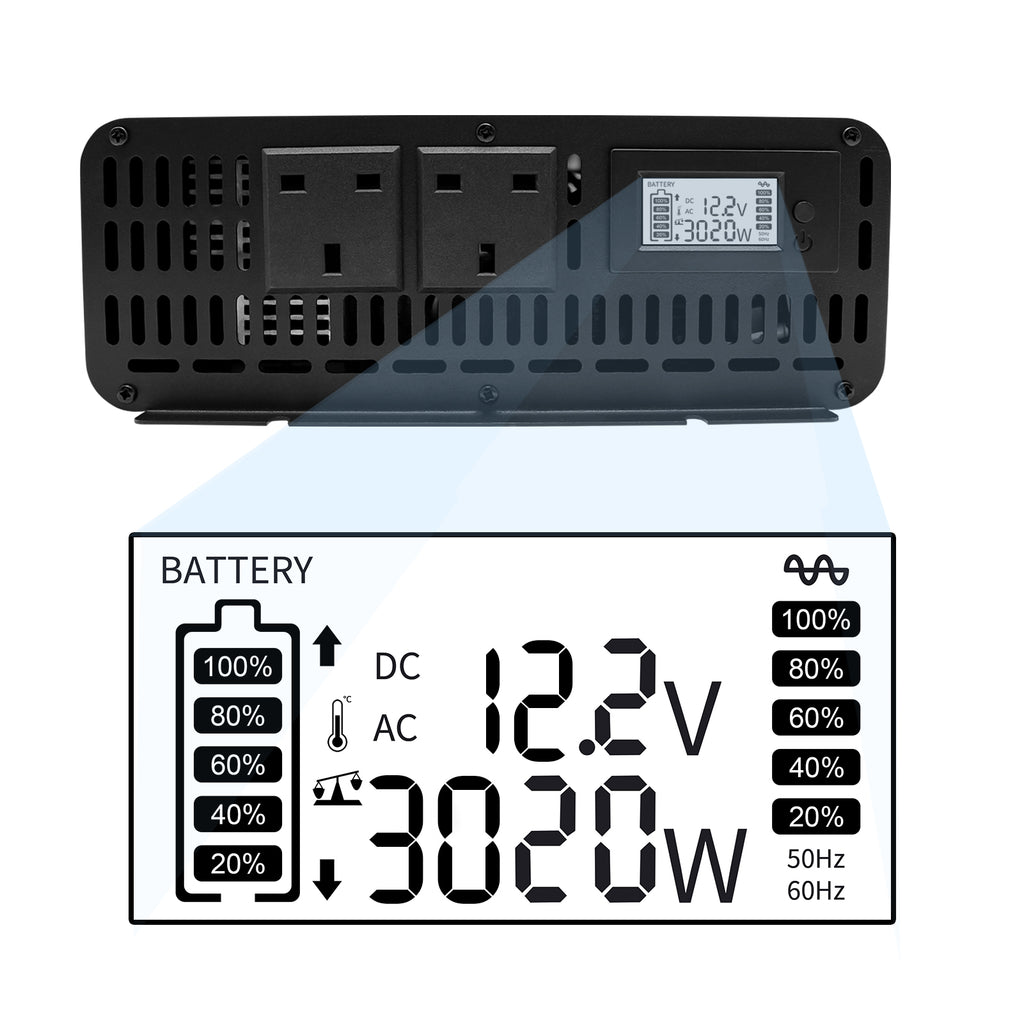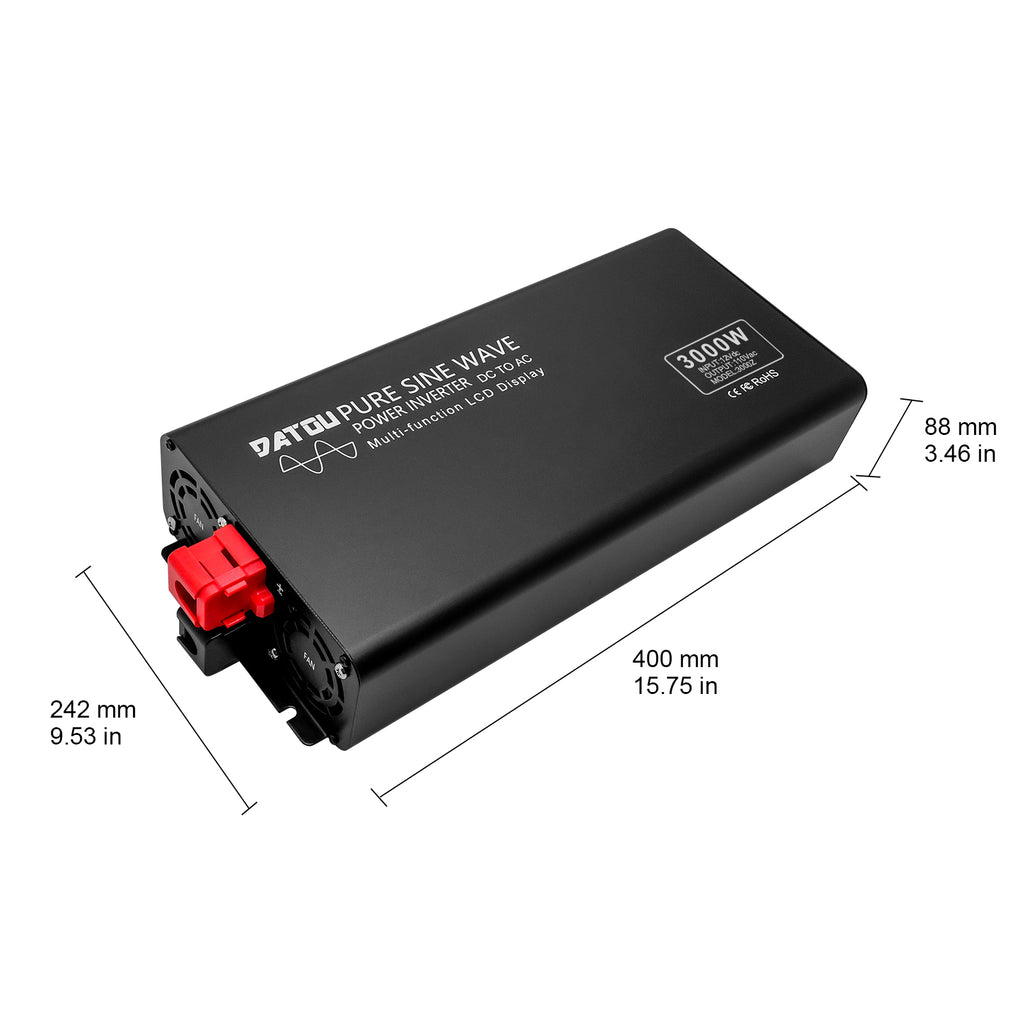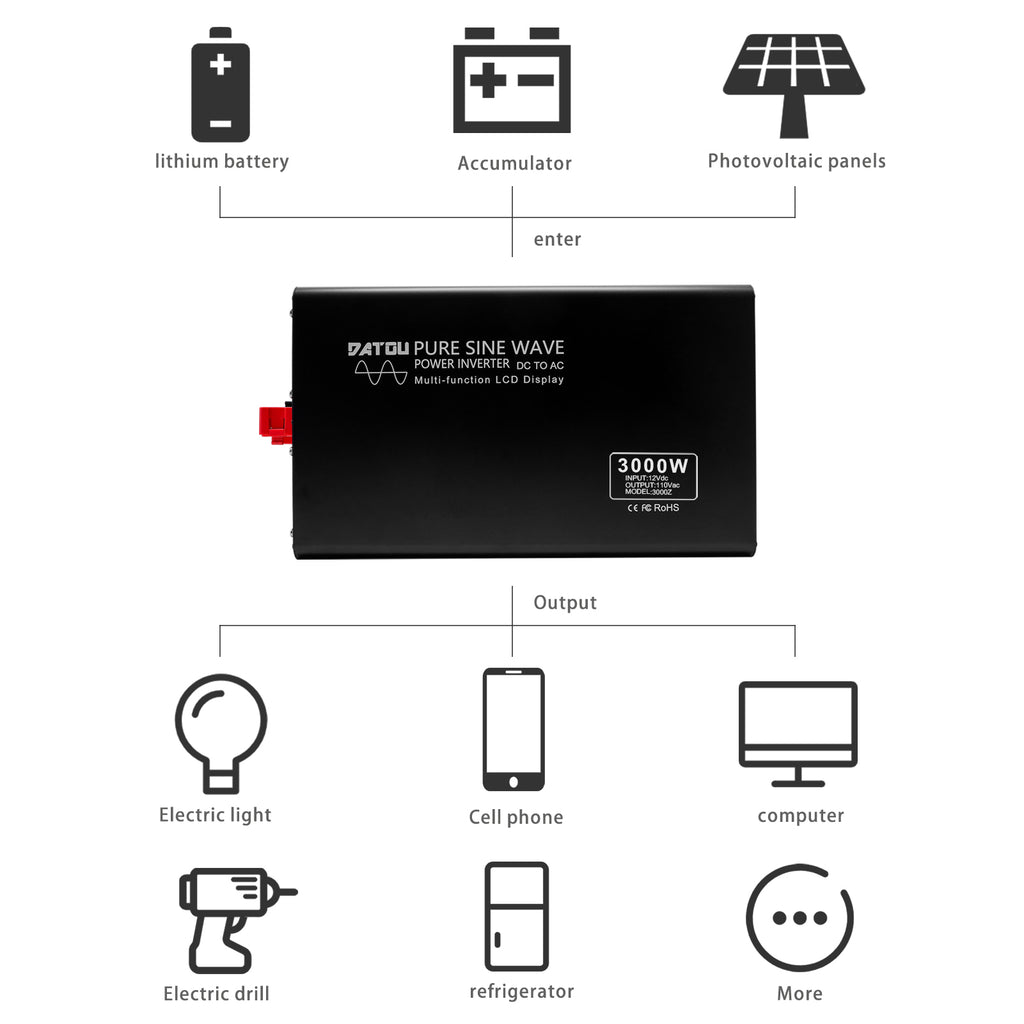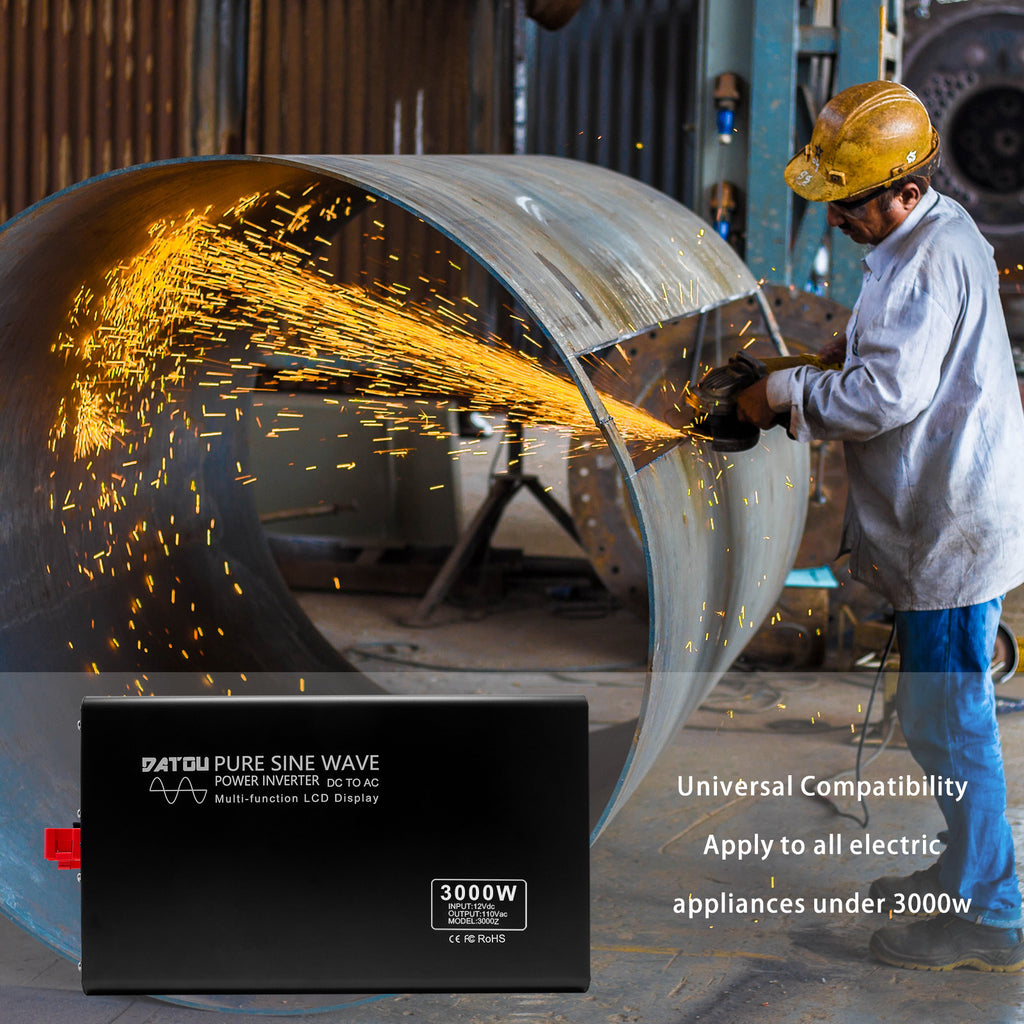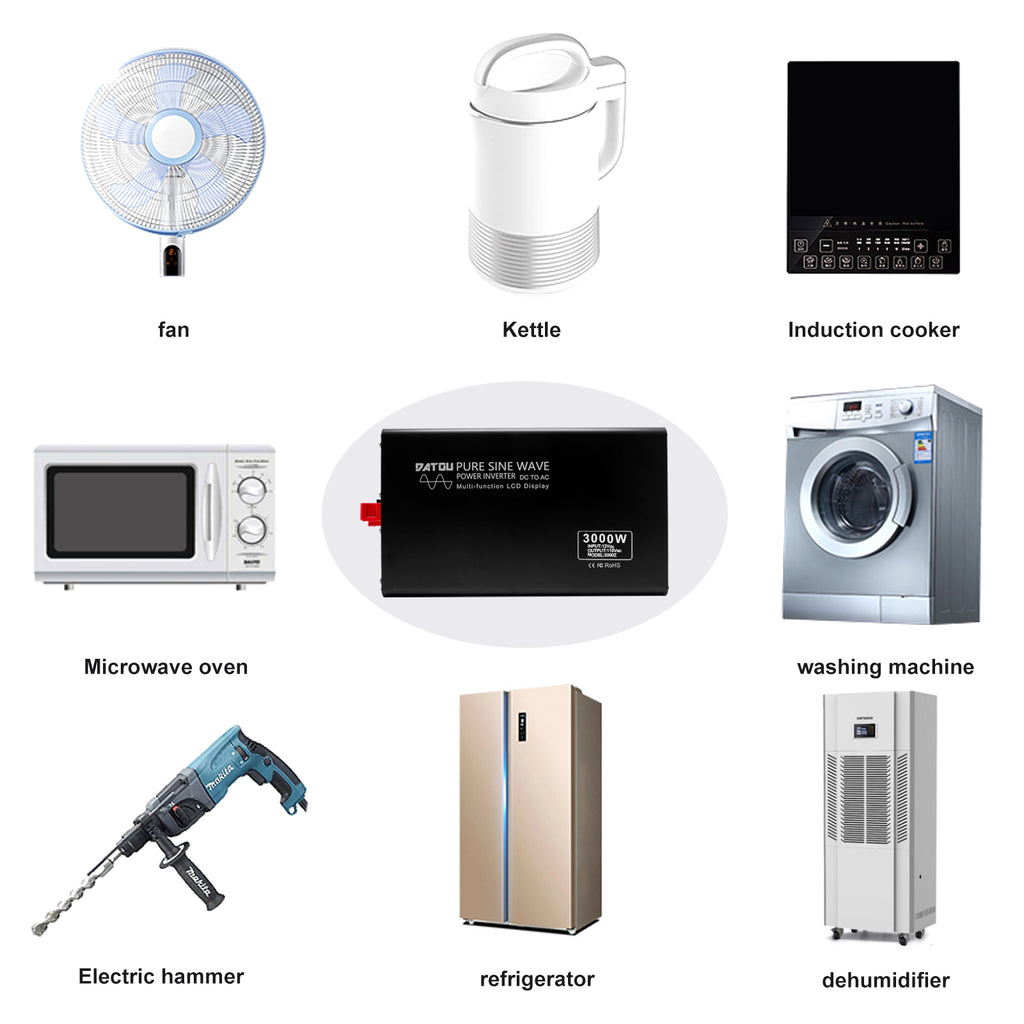 FAQ-Infrared Paint Lamp
1. Why choose our factory?
Our company has advanced production equipment and strong technical force. The production process is strictly managed in terms of quality. Our products are sold all over the world, and are well received at home and abroad for their excellent quality and perfect service.
2. What are the advantages of our products?
High efficiency, energy saving, fast delivery, good quality
3. Our advantage?
Reasonable price and best service, advanced equipment and strong technology.
4. How to order?
Once you are interested in our products, please contact us via online or email as soon as possible. A specific quotation will be provided according to the required size and quantity.
5. How is the quality?
All products comply with ISO and the highest national standards, if necessary, we can also provide CE, certificates.
FAQ-Inverter
1. Question: Why is your quotation higher than other suppliers?
A: In the domestic market, inverter brands are mixed. Many low-cost inverters are actually assembled by unlicensed small workshops. They are assembled rudely and use unqualified components to reduce costs, which poses a very big safety hazard! In order to protect the personal and property safety of your relatives, please don't be greedy for low prices, and be sure to choose a reliable inverter!
2. Question: Is the output voltage of our inverter stable?
A: Absolutely. Our inverter is designed with a good voltage stabilizing circuit. You can even check while measuring the true value with a multimeter. In fact, the output voltage is quite stable. A special note is needed here: Many customers find that they are unstable when using a traditional multimeter to measure voltage. We can say that the operation is incorrect. Ordinary multimeters can only test pure sine waves and calculated data.
3. Question: What should I pay attention to when installing the inverter?
A: Place the product in a ventilated, cool, dry, and waterproof place. Please do not use force or put foreign objects into the inverter. Remember to turn on the inverter before turning on the appliance.
4. How about your warranty?
A: We provide 1 year warranty and lifetime technical support for different products